Virtual Storytime with Author Minh Lê!
May 25 @ 6:30 pm

-

7:30 pm

Free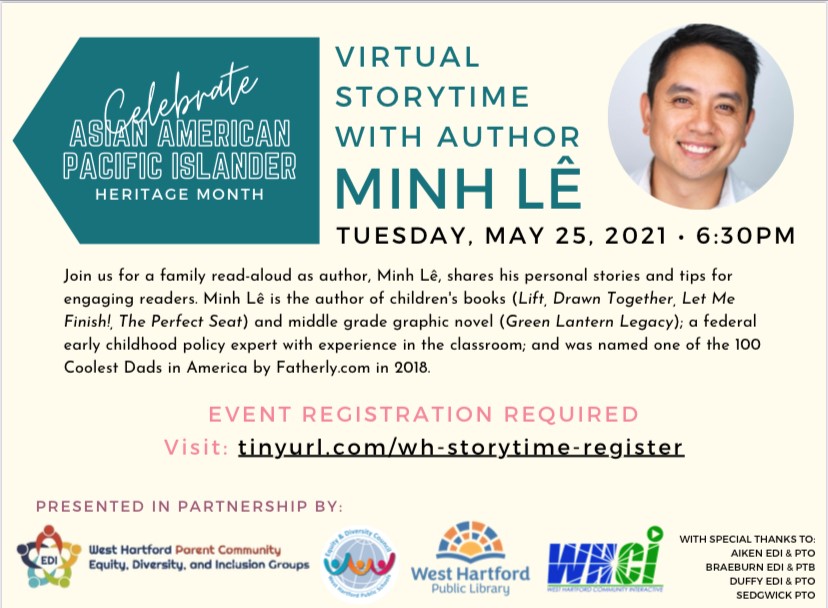 Join us for a family-friendly read aloud with award-winning author Minh Lê as he shares his personal stories and tips on reading with caregivers.
Registration is required by visiting: tinyurl.com/wh-storytime-register
This event is a partnership between West Hartford Parent Community Equity, Diversity, and Inclusion Groups; WHPS Equity & Diversity Council; West Hartford Public Library; and West Hartford Community Interactive.
With special thanks to: Aiken EDI & PTO; Braeburn EDI & PTB; Duffy Elementary EDI & PTO; Sedgwick Middle School PTO
Minh Lê is the award-winning author of the picture books Lift (a Washington Post Best Book of the Year) and Drawn Together (winner of the 2019 Asian/Pacific American Award for Literature), Let Me Finish! (named an NPR Best Book of 2016), and The Perfect Seat illustrated by Gus Gordon. He also wrote Green Lantern: Legacy, a middle grade graphic novel for DC Comics.
He has several forthcoming projects in the works, including A Lotus for You, the authorized picture book biography of the world-renowned Zen Buddhist monk and Nobel Peace Prize nominee, Thích Nhất Hạnh. In addition to writing books, he serves on the Board of We Need Diverse Books and has written for a variety of publications, including NPR, The Horn Book, the Huffington Post, and the New York Times.
During the day, he is a federal early childhood policy expert who has worked in education at the national, state, and local level — both in and out of the classroom. He got his bachelor's in Psychology from Dartmouth College and received a master's in Ed Policy from the Harvard Graduate School of Education. In 2018, he was named one of the 100 Coolest Dads in America by Fatherly.com.
Outside of spending time with his wonderful wife and children at their home in San Diego, his favorite place to be is in the middle of a good book.
The purpose of the West Hartford Parent Community EDI Groups is to create a collaborative space for parents, educators, and community members to come together to listen, learn, and take action on equity initiatives for systemic change that will ensure all children have the opportunities for educational success.